Today STTB hit 50,000+ active users! →
Thanks everyone! I hope you all are loving the extension! Don't forget to leave a rating! :)
STTB IS BACK IN THE CHROME WEB STORE! →
Sorry for the problems guys, I realize that it's been missing for what is essentially forever in internet years, but it's back now!
Missing from Chrome Web Store Temporarily
STTB is not in the Chrome Store at the moment, it will be returning shortly, please hold on :)
2 tags
Version 6.1.1
A small number of users seem to have an issue where they get the donate window each time they open their browser. THIS SHOULD NOT HAPPEN. Sadly, I am unable to reproduce the bug that caused people to see the message each time, however I did change up the code in a manner more likely to prevent that from occurring. If you update to 6.1.1 and are still seeing the message asking for donations open...
1 tag
Version 6.1 Release (New shortcuts)
This release is important to Google Chrome users because it changes the default shortcut keys! The new shortcut is Alt + Arrow UP or Arrow DOWN. If you would like to revert back to the old shortcut of Alt + T or B, it is now an option on the settings page :) You can also turn off the shortcut completely. No matter which setting you choose, the Home/End keys will also jump to the top/bottom. To...
6.0.1 Update!
New jQuery for some bugfixes and a faster extension! Out for both the Chrome version and the Safari version! Sorry for taking it's been so long for the updates guys! It's been a very busy end of the school year. Hopefully I'll be able to get back into it soon, and I hope to have a Firefox version out sometime this summer, as well as announce some of my other projects I've...
Data Tracking Questions
One of the most common questions I receive about the extension is regarding the security warnings that the Chrome Webstore has on the right side of STTB's page. tl;dr: I don't steal your data, that is just a standard warning that Chrome gives out. It warns that the extension can (not does) access "your browsing history" and "data on all websites." In order to...
5 tags
Version 6.0 Details
What's up with version 6? Safari version! Minor clean-up No new features in Chrome, but file size reduced from 1.8mb to ~260kb The Safari version was very easy to port over, it is already almost feature complete. There are a few minor things missing, but I hope to add them soon! A Firefox version is also in the works, but it is so different from Chrome and Safari that it will take a...
2 tags
scrolltotopbutton.com / Version 5.0.2
This blog now has the official URL of http://scrolltotopbutton.com/ and the extension has been bumped up to version 5.0.2 to just swap all of the links within to the new URL. (All old links will still work just fine though!)
4 tags
1 tag
5.0.1 Update
A minor update, I have upgraded the jQuery it uses to version 1.5.1, for some small performance/speed gains for the extension. Everyone will automatically get the updated extension the next time they open Chrome, or within a day or two. -Cody
1 tag
WELCOME TO VERSION 5.0!
Have you rated the extension yet? Please help me by rating it out of 5 stars! Comments are optional, but I depend on ratings for helping others find the extension! Scroll To Top Button is new and improved! You can now right-click on any page or on the button and quickly get to the options page! (Don't like it? Turn it off in the Options Page!) The Scroll To Top Button is now much...
3 tags
Watch
I got featured on Tekzilla's Daily Tip! :D
1 tag
Chrome-Dev Arrow Missing Bug
Note: For most of you, running just normal Google Chrome, ignore this post. For those of you on the Dev Channel of Chrome, you may have noticed that the arrow isn't loading since the last update of Chrome. I am well aware of the issue and the bug lies within Chrome's code and not of my extension. I can't do much about it, however I have filed a report to the Chromium team, and it looks like it...
Version 4.7
Overall, minor speed gains and a smaller file size. Updated jQuery to 1.5 Minor Options page tweaks. Removed workaround for Chrome bug 67004
1 tag
4.6.1
Fixes the arrow showing up on sites where it shouldn't when using the  "Flip" button mode. Fixes both "Flip" and "Dual" arrows showing up on Google Spreadsheets when they shouldn't. 
1 tag
Version 4.6!
You can now choose the scrolling down speed independently from your scrolling up speed! Set it to a slow speed, then hit the button and let the browser scroll for you as you read! Changed the shortcut keys to Alt+T and Alt+B (This lets you use just your left hand) Bug fix regarding disabling on Google Docs.
4.5.4 Google Calendar Fix
It shouldn't appear on Google Calendar. It was. It won't anymore. Fixed. If you know of any big sites that it is behaving improperly on, just let me know at: sttb@codysherman.com
1 tag
4.5.3 (Chrome-dev/Chromium fix)
Note: This only applies to Chrome-dev and Chromium. If you are on the regular Google Chrome, you are completely unaffected. There is a bug in the current Webkit (Chrome's rendering engine) that causes all rotated images to not be clickable. This version has a work-around to fix the dual arrow's bottom button. Unfortunately, the Flip mode is not fixed and you will not be able to jump...
2 tags
Version 4.5 Released
Sorry people nothing exciting yet, the localized version is coming along, but it's not ready yet! This version does some minor clean-up and preparations for the next bigger update, as well as introduces a donate button to the options page. A kid's gotta eat y'know. ;-) Also, and this is kinda sadface but hopefully not too big of one: you will be shown an option to donate after...
2 tags
Version 4.4.4
Visual tweaks, very minor bugfixes/enhancements, and prep for upcoming versions :)
2 tags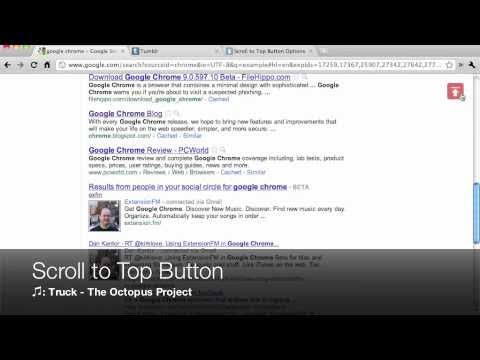 2 tags
Version 4.4 out!
This version adds a new button, "Author's Settings." It allows you to try out my personal and recommended set-up for the button, however clicking Restore Defaults will take you right back to Tumblr's setup if you prefer it! :) I also fixed some minor bugs and UI problems! Yay! Awesome!
2 tags
Version 4.3.2 & 4.3.3
Fixes the Home and End keys working normally inside of Text Fields.
2 tags
Version 4.3.1
Quick fixes/additions: Now the "Home" and "End" keys on your keyboard use STTB's settings to jump to the top and bottom of the page. Bug fixes regarding getting STTB to remove itself from pages that cannot be scrolled.
2 tags
4.3 Released
Hey guys, new version of Scroll to Top Button out, with some nice improvements! Decrease the load time for the button to appear, so that it shows up faster while the actual page is still loading! (See below for more details) When you print off a website/receipt/whatever in Chrome, the button will automagically be gone from the print! Very clever… Fixed a bug that allowed animations to...
1 tag
4.2 Released
You are able to choose to have the button be invisible until mouseover, transparent (the norm), or now opaque! This feature was requested on the extension's page in the comments, and I was able to implement in under 3 hours. A new record for STTB I believe. Do you have a feature request? Add a comment! :D And I'm still looking for translators willing to help get STTB available in...
4.1.1 Released
This new version adds a new "Black" arrow option and also updates the jQuery version used for some minor improvements in speed.
2 tags
4.1 Released (Invisible Button Mode!)
Since the beginning I've often gotten the request for an invisible button, and hopefully this new version will satisfy that. There is a new option (Click the Wrench in the top right of Chrome, then Tools > Extensions) and it will make the button completely invisible until you mouse over it. So obviously make sure you know where it is supposed to be before you turn the feature on! :) This...
4.0.3 Update
Just expands the URLs that Scroll to Top Button will run on.
4.0.2 Hotfix
There was an error that caused the Flip between Top/Bottom mode to not function properly, it has been addressed. If you noticed it, sorry :(
3 tags
1 tag
Version 3.1 Released
I realize this is a very quick update to an update, but good news! It is not a bug fix update! This is actually an update based off a comment left on STTB's page, and it requested slower scrolling speeds and the ability to stop the scrolling on a second click.  I'm guessing that this, in combination with new Scroll to Bottom Button option, essentially lets you click STBB once, and as...
3 tags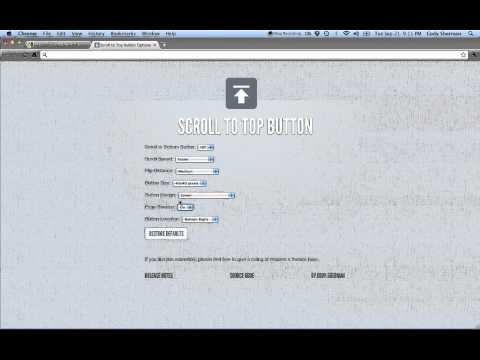 2.4.1 Release (GITHUB!) →
2.4.1 adds neither features nor bug fixes, but instead just prepared the code for release on GitHub. Scroll to Top Button is and has been open source, but now it is officially on GitHub. This is actually the first time using it, so I've still got some learning to do, but for anyone who would like to dig around in the code, it's there. ...
Version 2.4.0 Released
A simple, yet very handy change, the button is now loaded simultaneously with the page instead of waiting for it finish loading the website first. Most times, this didn't really matter, but when a page would hang on some portion of it, then the button would not have worked previously.
2.3.1 Released
Just did a minor wording change in the color selection menu.
2.3.0 Released
Now allows for choice of which corner the button appears in. Release notes moved to this Tumblr.